I guarantee you've seen a Judge Reinhold movie.
Well, maybe there's no such thing as a Judge Reinhold movie, but I guarantee you've seen a movie in which Edward Ernest "Judge" Reinhold, Jr. has a role. Because, truthfully, it's impossible for a movie to
star
Judge Reinhold. If you ever see him in a movie, it's because he just showed up on set one day and the director said, "Oh, fuck it, Judge, you'll just play the neighborhood doctor. Here's $50." And Judge will be most pleased.
Judge Reinhold has be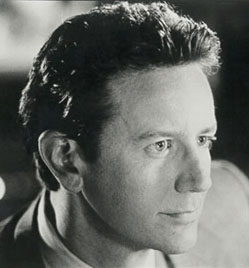 en loitering in Hollywood for 27 years and has appeared in more sequels than Arnold Schwarzenpecker. His career started with a Reinhold-quality bang when he landed the role of Elmo, the least important character in the wildly successful
Stripes
, starring Bill Murray, Harold Ramis, John Larroquette, Sean Young, John Candy, and other people infinitely more famous and talented than our beloved Judge.
Judge's already miniscule ego took another hit the next year when he masturbated onscreen during
Fast Times at Ridgemont High
, another awesome-but-not-because-of-you film that starred not one, not two, but eight actors more famous than he.
Judge's "breakout" role came in 1984's
Beverly Hills Cop
, starring Eddie Murphy and, perhaps most importantly, Bronson Pinchot. It was truly a groundbreaking performance by Judge, who
played a painfully nice virgin who sucks at life. Judge, a dedicated method actor, was up to the challenge and has lived vicariously through Detective Billy Rosewood ever since.
All told, Judge has appeared in 75 films, including
Rosalie Goes Shopping, My Brother the Pig, Beethoven's 3rd, Beethoven's 4th,
and, of course,
The Santa Clause 3: The Escape Clause
.