Before I start talking about George Mason men's basketball coach Jim Larranaga, play this video and read the rest of the article in a cheesy announcer voice.
LADIES AND GENTLEMEN....

FROM THE BRONX, NEW YORK....

PLEASE PUT YOUR HANDS TOGETHER...

FOR JIM LARRANAGA!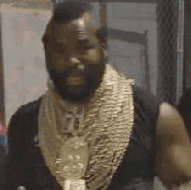 Jim Larranaga, born and raised in the Bronx, is the head coach of perennial ass-kicker George Mason's men's basketball team. Larranaga's story is much like any other mid-major coach's: successful player back in the day, no NBA career, and a series of assistant coaching positions before getting the head job at a no-name school. In Larranaga's case, it went Providence-Davidson-Virginia-Bowling Green. In 1997, Larranaga was hired by George Mason to lead the Patriots to the top of the Colonial Athletic Asscheeks. And for nine seasons, his career looked more and more like everyone else's. Then George Mason stopped losing.
The Patriots entered the Washington, DC region of March Madness after failing to win their own conference tournament despite an impressive 23-6 record. Their opponents shook thusly:
Michigan State (defending Final Four participant)
North Carolina (defending champion)
Wichita State (huh?)
Connecticut (2004 champion)
And Larranaga beat them all. His most awesome moment by far came during the Connecticut game. Although I would venture an 11-seed commuter school playing for a spot in the Final Four scarcely needs any additional motivation, Larranaga started screaming at his team like an incontinent hobo during the second half that Connecticut didn't even know what conference George Mason belonged to. "Tonight," he was heard to snarl, "CAA stands for 'Connecticut Assassins Association.'"
Badass.