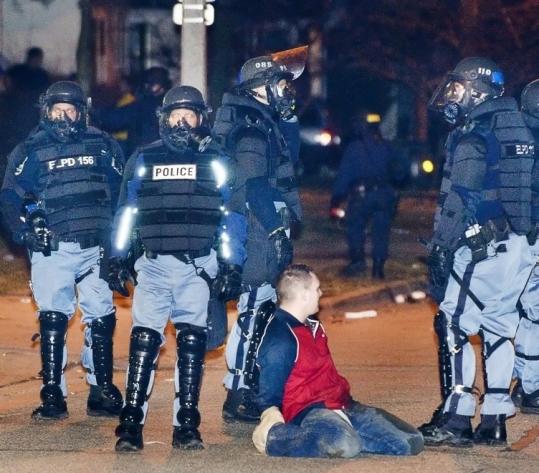 My current digs, the University of Michigan, can lay claim to many top-notch academic programs and concentrations. However, our oft-maligned sister school, Michigan State, absolutely destroys us in the field of journalism, not to mention basketball.
Which is exactly why this crisp and well-edited video footage, if shot by an MSU student, is entirely within reason. Spartans just know how to make good photojournalists. Ann Arbor hosted Hash Bash just one weekend prior to Lansing's Cedarfest, and not one person filmed it, let alone rioted. It was more or less 2,000 square feet of unwashed and unshaven hippie flesh covered in a thick cloud of marijuana smoke. Dude.
Fast forward one weekend to Michigan's other land-grant institution and we see lesbian debauchery, tear gas, and Natty Ice.
Now, when we take away the rockin' tunes, the scene is not entirely unlike early-90's Bosnia. With more brosephs.
I'm still unclear as to the original stated purpose of Cedarfest. Besides thousands of drunks in one spot. I love house parties (although not as much as I love
House Party
); I get to talk shit to people who won't remember me and hook up with hot girls totally free of emotional responsibility. Usually there's free food too. But none of that stuff is possible with thousands of people in attendance and the whole thing is outside, unless I'm grossly underestimating MSU students' comfort with public sex. I guess never mind.