Earlier today, Mike Mussina decided to
call it a career
.
Mussina pitched for the Orioles and the Yankees during his stellar 18-year career. He finished his career with 270 wins, a 3.68 ERA, 2813 strikeouts, and a 1.192 WHIP. He was a 5-time All Star and won 7 Gold Gloves, including for this past season, tying him with Mark Langston (really?) for 5th most all-time. The past year, he became the fifth pitcher to have his first 20 win season in the final year of his career, and was also the first to win his 20th game in the final start of his career. Mussina hold the record for winning the most games in a career without having a 20-win season. He also took two perfect games into the ninth inning (I was at one of them).
Mussina is, in my mind, a Hall of Famer. He never was a Cy Young winner. He never threw that no-hitter or perfect game. Only in his last season did he win 20 games. He never won a World Series. But Moose was always consistent and always classy. He amassed career numbers that qualify him for the Hall. His 270 wins are good enough for 33rd all-time and he's 19th all-time in strikeouts. His K/BB ratio of 3.58 is a great 13th all-time, and his career winning percentage, a stellar .638 (prorated over 162 games: 103.356 wins a season) is tied with Jim Palmer, another Orioles great. Keep in mind too that Mussina pitched for some truly terrible Orioles teams and when he moved to the Yankees, he was often the recipient of poor run-support. In addition, Moose was always a classy guy about whom nothing bad could be said. He was never too flashy and it was always about the team with him.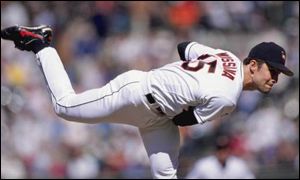 One game in particular can sum up Mussina's career: Game 3 of the 1997 ALCS. Moose pitched brilliantly, striking out 15 in just 7 innings. However, he was nearly matched by Orel Hershiser and the game was blown in the 12th inning by the bullpen and Lenny Webster (I didn't want to talk about then, and I don't want to now). Mussina was always excellent, but overshadowed by others.
Mussina was always a hero of mine. Easily one of my favorite pitchers and one of the true stars of the mid-90s Orioles teams I cherished so much, Moose was the warrior at the front of the rotation that any team would want. Some say he sold his soul when he went to the Yankees and while I'm never a fan of anyone good playing for the team from the Bronx, people forget that Moose had every intention of staying in Baltimore and was even willing to give the Birds a discount for his wonderful services. But the Orioles management tried to take advantage of Mussina and low-balled him to the point of insult. (This would not be the first time, and certainly not the last that Peter Angelos has made me want to kill something.) But I remember playing baseball in the basement with my brother and dad and always wanting to be either Cal Ripken Jr, Brady Anderson (look into those sideburns and tell me you're not smitten), or Mussina. Other than perhaps Ken Griffey Jr, never have I so wanted a player from any team other than the O's to win a World Series as I did for Mussina.
So farewell, Moose, you will be missed and will always have a place in the hearts of true Orioles fans (the only kind left) and grateful Yankee fans (there should be so many more than there are) everywhere.