Taking a quick look at the 2009 AL Central makes one think, "Does anybody want to win this division?" There isn't really a dominant team out there and every team has major issues. Still, every team has some strengths and the division is completely wide open.
Should be fun.
All AL Central Team:
C- Joe Mauer, MIN
1B- Justin Morneau, MIN
2B- Placido Polanco, DET
3B- Mark DeRosa, CLE
SS- Alexi Ramirez, CWS
OF- Grady Sizemore, CLE
OF- Carlos Quiten, CWS
OF- Magglio Ordonez, DET
DH- Billy Butler, KC
SP- Francisco Liriano, DET
SP- Cliff Lee, CLE
SP- Gil Meche, KC
SP- Zack Greinke, KC
SP- Mark Buehrle, CWS
CP- Joakim Soria, KC
Team previews? I think so.
Detroit Tigers:
What happened to the Tigers? Just a few years ago they were the darlings of baseball with their worst to first, multi-year turnaround playing the World Series. Then last year, they stunk up everything. The culprit? The three headed monster of injuries, aging, and pitching. There were efforts made to remedy all three. A number of bounce back years will be necessary though to have a successful season.
The lineup wasn't the issue last year as it was sixth in the majors in runs scored. The team could be even more potent this year. The team acquired catcher Gerald Laird via trade from Texas. Laird is a slightly above average catcher. He plays a little defense and can hit a little, though not with much power. His backup, Matt Treanor, is a lesser version. There isn't much organizational depth, as the only prospect of note would be Dusty Ryan, who doesn't project much higher than Laird if at all. Brandon Inge could potentially catch in a pinch, but is better utilized at third. Inge had a miserable season last year but suffered from injuries as well as inconsistent playing time early in the year. He should bounce back, but not much. Inge has a very long swing, often swinging for the fences when he should be looking for solid contact. This causes a lot of strikeouts and a lot of weak contact for a guy who isn't that big and who has only once hit more than 16 HRs. On the other side of the diamond is the Tigers' best player, Miguel Cabrera. Cabrera is an absolute monster with the bat, having only once hit fewer than 33 HRs in a full season. His OBP and batting average took dips last year, but every other number stayed steady as he clubbed 36 doubles, 37 HRs, and had a .537 SLG. He's also getting more comfortable at first and should continue to be one of the league's best players for at least another decade. The middle infield includes the veteran tandem of Placido Polanco and Adam Everett. Polanco has, for a few years, been one of the steadiest performers in the league at second base. You can pretty much expect very solid defense, a .300 BA, a .350 OBP, and 10 or so home runs. Everett, signed away from the Twins this offseason, replaces the disaster that was Edgar Renteria from last year. Everett is the quintessential no-hit, all-glove field. He's one of the best fielders in baseball at the position, but to expect anything above the bare minimum with the stick is unreasonable. Still, Renteria wasn't great last year, he was old and slow with the glove, and the rest of the lineup is good enough to cover for Everett's shortcomings. The outfield should again be a team strength. In right, Magglio Ordonez continues to plug away as one of the more dangerous hitters in baseball while his hair only gets longer and greasier. He didn't repeat the MVP-caliber 2007 numbers he had in 2008, but he was still effective when he was healthy. If he can stay healthy, the Tigers can expect 25 or so HRs and a .500+ SLG. In centerfield, Curtis Granderson's production fell way off after a spectacular 2007. His 2008 was still very good, but almost every category was down. He should be close to his 2007 levels though, so expect good numbers in all 5 tools. Left field is inhabited by Carlos Guillen. Guillen can play left, right, first, third, and even some short and second, and he's probably best suited in a sort of super-sub role, giving whoever needs a rest a day off here and there. Numbers-wise, you can expect 12-15 HRs with a .375 OBP, 30 or so doubles and 10-12 steals. The man who probably should be starting in left is former Yankee prospect Marcus Thames. Thames has impressive power, hitting 25 home runs in just 316 ABs last season. He's never been a regular for any team, which is puzzling considering his career .498 SLG. Thames does strike out a lot (95 in the aforementioned 316 ABs) and has a pitiful career .302 OBP, but his power and decent fielding ability are tough to ignore, so at worst, he'll get a lot of playing time as a 4th outfielder and part-time DH. The full-time DH will be Gary Sheffield. Sheffield is nearing the end of his impressive career and his knees and bum elbow won't let him play full time anymore, but he's still a valuable hitter. Sheffield's once legendary bat speed (second only to Barry Bonds earlier this decade) has deteriorated and prevents him from hitting more good pitches, instead relying on mistakes for most of his production. If Sheffield is healthy, you can expect 20-25 HRs with a patient eye at the plate. The bench is versatile but not particularly talented with players like Treanor, Ramon Santiago, Thames, and Ryan Rayburn.
If the Tigers are to even pretend to contend, the pitching staff needs to resemble something closer to a major league crew than in recent years. The rotation will be anchored by Justin Verlander. Verlander has top grade stuff including a fastball that consistently sits in the high 90s even deep into the game. Verlander didn't seem to be right all season as his ERA increase over a full run per game. It can be attributed to his strikeouts decreasing by 20 and his walks increasing by 20. His pitches flattened out and he seemed tired most of the season. There is no reason to think he won't revert to his 2007 form where he won 18 games and threw a no-hitter. Even if he gets only a little closer to that 2007 form, it will be a huge asset to Detroit. The number two this year will be Armando Galarraga. Galarraga was the lone bright spot of the staff last year in his first full MLB season. He uses his big frame to get a very good downward action on his pitches, keeping the ball down in the zone. He sported a 1.18 WHIP last season and did a good job of not walking guys. He should continue to develop into one of the better starters in the AL. The rest of the rotation should include Jeremy Bonderman, Edwin Jackson, and Dontrelle Willis. Bonderman was hurt last season, starting only 12 games. He has good stuff, with 5 solid pitches. But Bonderman has never put it all together and realized the potential that made him a wildly sought-after high school phenom. Edwin Jackson, acquired from the Rays for Matt Joyce, is another former super-prospect who only just seems to be coming into his own. Jackson was at one point the biggest prospect in the Dodgers system but seemed unable to find any sort of consistency, stemming from poor mechanics. The Rays' staff seems to have fixed him at least some. He probably will never live up to his prior ceiling, but if he maintains what he did last year, the Tigers will have acquired a very good number three starter for essentially a backup outfielder. Willis, as I predicted last year, struggled in 2008. He eventually was shut down for the year with an injury, but looked terrible before that walking 35 in just 24 innings for an other-worldly bad WHIP of 2.5. Willis doesn't have great stuff, instead relying on his funky delivery and control. Problem is, his control has deteriorated. If he can regain it, he can be a solid 4th or 5th starter, but if he doesn't, he could soon be relegated to the bullpen or worse. The bullpen can only get better. Brandon Lyon appears to be the closer. He throws a lot of strikes, which keeps his walks low but also means a lot of his pitches are put into play. Lyon can also suffer is he is overexposed. Setting up for him will be a collection of pitchers including lefty Bobby Seay, veteran Nate Robertson, and hard throwers Fernando Rodney and Joel Zumaya. Zumaya is, as always it seems, the wild card. He wasn't fully healthy from a major arm injury suffered in 2007 until late 2008. He pitched well when he was able to though. Zumaya has a very impressive slider, but his main pitch is the high heat. In 2006, Zumaya's last healthy season, he threw almost 200 more 100 mph+ pitches than the next closest, Kyle Farnsworth. If he can regain that form and is healthy, Zumaya is damn near unhittable. A healthy Zumaya would be a huge asset to the team. One pitcher to keep an eye on is Rick Porcello. Barely 20 years old, Porcello was thought of as the best pitching prospect available in the 2007 draft, but fell to the Tigers due to his high signing bonus demands. The Tigers gave in, giving him nearly $4 million and so far he hasn't disappointed. If he continues to progress and anyone on the big club falters, don't be surprised to see Porcello tossing at Comerica.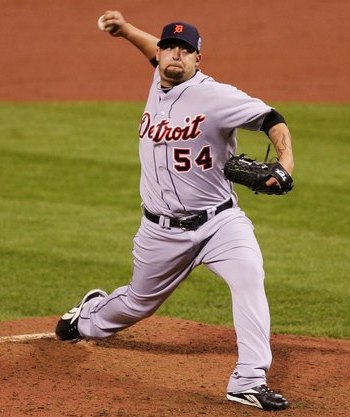 Kansas City Royals:
How could the Royals possibly be in contention this year? Well when you lose for so long, you're bound to collect at least a few solid prospects. Unfortunately, that hasn't really been the case for the team. However, a weak division and enough solid play plus some shrewd vet signings and the Royals could potentially sneak into the conversation as a legitimate team.
The Royals are surprisingly deep at catcher. Miguel Olivo is the nominal starter. As evidenced by his strong showing at the World Baseball Classic, Olivo has good pop for a catcher, also evidenced by last year's .444 SLG. Olivo has a pretty good glove and can swing it a bit, but has always had a comically low OBP and thus doesn't warrant a full-time starter position. Luckily for the Royals, backup John Buck doesn't represent a huge dropoff. Buck hit 9 HRs last year, only half of what he had in 2007. But that seems to be more of the norm for Buck and the team can expect more of the same from him. Thirdbaseman Alex Gordon was supposed to be the second coming of George Brett, but so far has be wildly underwhelming. Still, he is a legitimate 4-tool prospect who can steal a few bases if need be and he showed marked improvement in his second season particularly in the patience department where his walks went up by 25 in 17 fewer games. He should continue to develop into a very good player. George Brett good? Probably not, but even an All-Star would be an improvement for the Royals. On the other side of the field at first, Mike Jacobs takes over after being acquired from Florida this offseason. Jacobs clearly possesses impressive power, hitting 32 HRs last season with an impressive .514 SLG. Unfortunately his .299 OBP is completely unacceptable for a first baseman. If Jacobs is going to be a solid regular, he has to start taking more pitches and working the count better. Perhaps getting out of Florida's notoriously aggressive program will help him. The middle infield is young and relatively untested but provides a lot of hope. Second base is manned by Albert Callaspo, a slick-fielder who, until last season couldn't hit. In limited duty, Callaspo hit .305 with a .361 OBP. The key seems to be he started putting more balls into play, as his strike outs stayed the same despite taking 69 more at bats in 2008 than 2009. By putting the ball in play on the ground, Callaspo is able to use his speed to put pressure on fielders, instead of either striking out or flying out, relatively easy plays. Shortstop Mike Aviles was a revelation in his rookie season, providing 27 doubles, 10 home runs, and 8 steals while having a .354 OBP and a .480 SLG in only 102 games, essentially 2/3rds of a season. Aviles ceiling probably isn't much higher than his performance last season, but just duplicating that would put him in the second tier of shortstops in terms of production in the bigs. The outfield is manned by the athletic trio of David DeJesus, Coco Crisp, and Jose Guillen. DeJesus has been the Royals' all-around player since joining the team in full-time in 2004. A poor man's 5-tool player, DeJesus can do a little bit of everything but doesn't do anything greatly. He was banged up last year but still had arguably his best season with the stick and should continue to contribute at a high level. Crisp was acquired from the Red Sox during the offseason. He's a very good fielder and can fly around the bases. He doesn't walk much, certainly not enough for a player of his speed, but otherwise is a quite solid player and the defensive upgrade he presents should be substantial. Guillen has been pretty much the same player his entire career; a low OBP guy with decent power and a pretty good glove. He has always had the talent to be a better player, but his lack of patience at the plate has robbed him of some offensive effectiveness and he's unlikely to get any better at this point. Still, he hits with enough power to warrant solid playing time as a decent regular option. DH should be filled by Billy Butler. Just 22 years old, Butler is a big guy who can't field worth a lick but has good power and doesn't strike out that much. His batting eye is improving as well and if he can stay healthy, he should be a solid player for the Royals for many years. Should any player falter, the first guy off the bench will be the versatile Mark Teahen. Teahen can play every outfield position as well as first and third and maybe some second but doesn't play any of them well and he strikes out too much for a player who doesn't have great power. Still, as a plug-in, you could do worse. The rest of the bench will be filled out with versatile guys like Shane Costa, Willie Bloomquist, Ryan Shealy, Ross Gload, and Tony Pena.
The pitching staff has slowly improved over the past few years for the Royals and has turned into a team strength. The ace of the rotation is Gil Meche. Many balked when Meche was given big-money despite a less-than-stellar track record in free agency a few years back, but since joining the Royals he's had the two best seasons of his career and has lived up to expectations. Meche has always had pretty good stuff and has a lot of pitches to work with. He has always given up his fair share of hits but has been successful the past few years by limiting his walks and keeping the ball in the ballpark. More of the same can be expected from him this year and if the Royals improve as I predict they will, people will be talking about Meche as one of the more consistent and quality starters in the AL. The number two is the very talented Zack Greinke. After a difficult battle with depression, Greinke has finally figured out how to pitch and has had two straight years of being an above to very above average pitcher. Greinke has 3 plus pitches including a great changeup. He, too, succeeds by keeping his walk totals low and scattering hits. Like Meche, he will gain a lot of acclaim if the Royals improve as I predict. Brian Bannister, the number 3, was up and down last year, occasionally having great starts where he was nearly untouchable and then having miserable starts where similar results could have been achieved by throwing me out there. He pitched significantly better at home than on the road (3.96 ERA vs. 8.43 ERA) which suggests that his issues are simply a mental block. Bannister doesn't walk many and generally keeps the ball around the strike zone but he clearly needs to work on having a short memory and not letting mistakes compound. Kyle Davies and Luke Hochevar fill out the rest of the rotation. Davies had the best season of his career last year. The former Braves prospect doesn't have great stuff and his career 1.65 WHIP is less than desirable, but he gets by through toughness and working each batter hard. Hochevar took his lumps as a rookie last year but also showed some flashes of future success. He doesn't strike out a lot of guys but his 6'5" frame gives him solid downward action on his pitches and suggests room for improvement. Should either Davies or Hochevar falter, former Brave Horacio Ramirez or, dare I say, Sidney Ponson will be waiting in the wings. The bullpen will likely be the true strength of the team. Their leader is closer Joakim Soria. Soria is the best pitcher that you've never heard of, compiling 42 saves for a team that only won 75 in 2008. In two seasons, he's struck out 141 in 136.1 innings and compiled a fantastic 0.90 WHIP. Soria should continue to be one of the 5 or so best closers in baseball (I'd rank him ahead of everyone except for Papelbon, Rivera, and Lidge). The rest of the bullpen will be filled with effective pitchers such as hard-throwing, offseason acquisitions Juan Cruz and Kyle Farnsworth, Ron Mahay, Robinson Tejada, and Doug Waechter.
Minnesota Twins:
Every year, people forget about the Twins and every year they're right in the hunt until the very end of the season. 2008 was no different as the Twins lost a heartbreaking 1-0 tie-breaker game to the White Sox that kept them out of the playoffs on the last day of the season. I would expect them to be in the hunt once again thanks to the combination of pitching, defense, and Justin Morneau that has become the team's trademark.
The Twins have one of the finest catchers in baseball in Joe Mauer. Despite being one of the biggest catchers in the league at 6'5" and 225lbs, Mauer doesn't have great power, but he makes contact better and more often than any catcher in baseball and can run the bases pretty well. He also has a very disciplined batting eye, walking 34 more times than he struck out last year, and he plays stellar defense. Veteran Mike Redmond is his backup. Redmond has always been a pretty solid hitter for a catcher and has some skills behind the dish. He probably could be starting for a few teams and give the Twins a great option when the want to rest Mauer's valuable legs. Third baseman Joe Crede was released by the White Sox to make room for Josh Fields despite Crede routinely out-performing Fields in every category. The Twins were only too happy to sign him. Crede has battled back injuries most of his career but when healthy plays great defense and shows good pop in his bat, averaging 23 HRs in seasons where he's accumulated 400+ ABs and swatting 17 last year in 97 games. At first is the Twins' best position player, former AL MVP and Canada's favorite son, Justin Morneau. Morneau is arguably the most dangerous hitter in Twins' history after the great Harmon Killebrew and a force every time he steps to the plate. His homerun total dipped a bit last year, but his doubles increased by 16, indicating that he just missed a few extra homers. In addition, his eye at the plate is constantly improving as his walk totals have increased every year of his career. Morneau also plays very good defense at first with a career .995 fielding percentage. Up the middle, the duo of Nick Punto at short and Alexi Casilla at 2nd provides consistent play. Punto is a very good fielder who has almost no power. Punto doesn't get on base very well, but is a solid option in a good lineup, making him more suited as a backup. Casilla developed some power last season hitting 7 homeruns in 385 ABs and he also got on base at a higher rate than before. If he continues to develop he should become on of the better secondbasemen in baseball. If either falter, expect Brendan Harris, a Punto clone, or prospect Tervor Plouffe, a thirdbaseman usually, to step in. Centerfielder Carlos Gomez was the centerpiece of last offseason's Johan Santana trade and performed about as expected. Gomez can fly and is one of the fastest players in the big leagues and has developing power as he grows into his 6'4" frame. That being said, he needs to get on base more often (.296 OBP last season). Rightfielder Michael Cuddyer missed a lot of time last season due to injury (only 71 games played in 2008). When he's healthy, Cuddyer does provide good power and solid defense. Only twice has he had an OBP of more than .350 (.362 in 2006 and .356 in 2007), so clearly that's an issue for him but there are certainly worse options. Left field will probably be manned by Denard Span. Span's rookie year was the best of any Twins outfielder in 2008. Span is a speedy slap hitter who does a good job of working the count. He should continue to develop though his ceiling isn't much higher than where he already is. Jason Kubel will be the DH. Kubel brings a powerful bat but has never been able to stay healthy or put it all together. He can play the outfield if need be but is clearly the worst fielder of all on the Twins roster. The big mystery of the Twins is Delmon Young, the centerpiece of the Matt Garza trade last outfield. On potential alone, Young should be one of the best players in baseball right now. But he has never shown the ability to utilize his vast potential. If he can get his head on straight (an incredibly tall order), Young could be come a monster. Will that happen? Probably not. The rest of the Twins bench is deep with players such as Brian Buscher, Matt Tolbert, and Jason Pridie.
As seems to always be the case with the Twins, pitching should once again be a team strength. Francisco Liriano will be the team's ace. Liriano has absolutely dominating stuff, perhaps even better than his former teammate Johan Santana's. He missed all of 2007 and a good portion of 2008 thanks to Tommy John surgery, but his rehab has gone well and he should be back to full strength come Opening Day, a scary thought for all who oppose him. Keep in mind, his last healthy season, 2006, he struck out 144 in 121 innings and had a WHIP of exactly 1.00. Expect similar things this season. The other candidate for ace-dom is Scott Baker. Baker has gotten better every full year in the league and that should only continue. Baker is a big guy at 6'4" and 220 lbs who generates good downward action on 4 solid pitches. The rest of the rotation will be filled by the trio of Kevin Slowey, Glen Perkins, and Nick Blackburn. Slowey is developing much like Baker and one can expect a similar ceiling. Perkins is a left-handed junk-baller who doesn't strike out many but also doesn't walk many in the mold of Jamie Moyer (though not to that extreme). Blackburn is a right-handed version of Perkins. If all 5 starters can stay healthy, you'd be hard pressed to find a more effective quintet, top to bottom, as Perkins had the worst ERA of the lot at 4.41. The bullpen will be deep and effective. Closer Joe Nathan has continued to quietly be one of the best in baseball since coming over with Liriano and Boof Bonser from San Francisco for AJ Pierzynski (what a terrible trade...honestly, one of the worst ever). Nathan struck out 74 in just 67.2 innings and had the lowest ERA of his career. In front of him will be the squad of Jesse Crain (who can start if need be), Matt Guerrier, Craig Breslow, and Luis Ayala.
Cleveland Indians:
The Indians went from World Series contender, to last-place losers, to dangerous .500 team in a matter of months last season. The traded off their best player in CC Sabathia, but found a new ace in Cy Young winner Cliff Lee. They relied on young hitters to develop, but they woke up and the hitters weren't that young any more and hadn't developed as planned. This season will be a watershed moment: can this team compete, or is it back to the proverbial drawing board?
The Indians have an embarrasment of riches at catcher. Victor Martinez is the starter for now. He brings a potent bat to the equation but was injured for much of last season and was never fully right. When he is healthy, you can expect 20-25 HRs with a .375+ OBP and a .475+ SLG. He doesn't play great defense, which, combined with the depth at catcher, suggests a full-time move to first base is imminent. His backup is the very talented Kelly Shoppach, the former Red Sox and Diamonbacks' prospect, who could be starting for a number of teams. Shoppach never had the opportunity to be a full-time starter until last season when Martinez was injured and he didn't disappoint. 21 homeruns, a .517 SLG and a .348 OBP are great numbers as a catcher and would play out to most positions on the diamond. In addition, Shoppach provides better defense than Martinez. If Martinez does become the full-time 1st baseman or if somebody gets moved for another part (such as pitching) look for top prospect Carlos "Black Magic Woman" Santana to step in. Santana is one of the top catching prospects in all of baseball and was acquired for Casey Blake from the Dodgers around last year's trading deadline. At first base, assuming Martinez isn't moved there, Ryan Garko provides standard power with a moderately patient eye and a good glove. He can also play in the outfield, so even if he's out of the starting loop, he's a very useful player to have. At third, Mark DeRosa, an offseason acquisition from the Cubs, had probably his best season in 2008. Generally a super-sub-type player most of his career DeRosa played at least one inning at every position last year except for pitcher and catcher. That versatility should prove to be invaluable and his bat, which is improving its power, should only be an asset. Up the middle, the duo of Jhonny Peralta and Asdrubal Cabrera is humorously named. They also are pretty good. Peralta, the better of the two, has good power for a shortstop (21+ homeruns 3 of the past 4 seasons) and plays solid defense but has kinda low on-base numbers and he strikes out a ton. While it's unlikely that he'll change that at this stage in his career, he is certainly an asset to the team. Cabrera is a speedy slap hitter who seemed to be over-exposed as a regular last season. It doesn't appear as though he should be a starter, but there is still room for improvement. In the outfield, Grady Sizemore is a legitimate 5 tool star. Sizemore does everything well and although his OBP and batting average dipped a little in 2008, he should continue to be one of the game's premiere centerfielders. The rest of the outfield is a little less of a sure thing but shows a lot of promise. Right fielder Shin-Soo Choo played in 94 games last season, more than doubling his previous career total, and responded very well. He clubbed 14 homeruns sporting a very high .549 SLG and a more than respectable .397 OBP. He's a hitter who's very willing to work the count and he plays plus defense in right. While it's possible this was just a fluke, the Indians are certainly hoping that he'll continue to progress. In left, Ben Francisco is another player who got his first real shot at regular playing time and performed above expectations. He did hit 15 homeruns in 121 games, but his OBP was a bit on the low side at .332. Still, at worst he should be a very good 3rd outfielder option. Should either Choo or Francisco stumble the team has solid depth in the form of David Dellucci. Dellucci is the consummate 4th outfielder; has a little pop, plays solid defense at any of the positions, and hustles his ass off. However, at any moment, any of these players or any of the first basemen could be replaced by top prospect Matt LaPorta, acquired from the Brewers as the key to the Sabathia trade last season. LaPorta can't field. But the guy can straight rake. He's dominated every professional stop he's been too and that should only continue when he finally gets his shot at the bigs. The Indians' bench is solid with players like Shoppach, Dellucci, Jamey Carroll, and Josh Barfield.
The pitching staff was a weakness for the team last year outside of Cliff Lee. If the Indians are looking to contend, the staff will have to step it up. The rotation will be anchored by Lee. Less than two years removed from being sent down to the minors, Lee was absolutely lights-out last season en route to winning the AL Cy Young award. Lee is a big lefty with a lot of different pitches who had always been about league average. Something clicked last season as he began to use his changeup more and stayed down in the zone more frequently and it showed as he posted his best numbers across the board. Is Lee really this good? Probably not, but if he sticks with these positive changes, he, at worst, would be a solid ace. The only other sure-thing for the rotation is righty Fausto Carmona. Carmona went from absolutely dominating in 2007, when he won 19 games and posted a 3.06 ERA, to pathetic in 2008 before being shut down with a hip injury. The Indians are hoping and assuming that his ineffectiveness can be attributed to the injury. In all likelihood, that is the case in addition to the added pressure of being that young stud for the team. If Carmona is healthy and has his head on straight, expect numbers similar to 2007. The rest of the rotation is a mystery. One strong candidate is Carl Pavano. Many forget that Pavano was once considered one of the best prospects in baseball (indeed, he was once the key piece in the trade that brought Pedro Martinez to Boston) and did once win 18 games in a season. But Pavano has almost never been healthy. When he has been healthy, he's been a pretty good pitcher, using his 6'5" and 240lbs frame to generate a lot of power and downward action on pitches. If he can be healthy for the Indians, he could be an offseason steal. But he probably won't. The other four top candidates for the rotation include Anthony Reyes, Aaron Laffey, David Huff, and Scott Lewis. Reyes is the most experienced of the four but also has the least amount of talent. Acquired mid-season from the Cardinals last year, Reyes was excellent in 6 starts, allowing only 7 runs in 34.1 innings. But his track record, does not bode well. Still, he may just have needed a change of scenery and at worst should be a solid swing man. Laffey was pretty good in 16 starts for the Tribe last season and fits the mold of a "crafty lefty" who has good control but doesn't strike out many. Lewis is another smaller lefty but he does strike out hitters more frequently. David Huff has the highest ceiling of the bunch. A big lefty, Huff has good power on his pitches and should make an immediate impact whenever he's given the ball. The bullpen was a disgrace last season but should be vastly improved this year. One such improvement can be found at closer where Kerry Wood was signed away from the Cubs to shut the door. Wood, a former starter with the Cubs, was a phenom if there ever was one, but Dusty Baker (secretly one of the worst managers in baseball) overworked his young arm (as well as Mark Prior's) and killed any hopes of sustained stardom. Still, Wood has battled back and found his niche in the bullpen. Wood has always had awesome stuff and he struck out 84 in just 66.1 innings last year. Assuming he can stay healthy, a big assumption, Wood should be one of the finer closers in baseball and would provide a huge boost for the Tribe. The rest of the bullpen will be filled with a few vets but mostly youngsters in a complete overhaul. One of the few veterans who'll get a shot is Rafael Betancourt. Betancourt was one of the better relievers in baseball from 2003-2007 and in 2007 was possibly the best non-closing reliever in baseball as he recorded 80 strike outs in 79.1 innings and having an other-worldly 0.76 WHIP, riding his very good cutter. But last season, he fell off a cliff as his ERA ballooned by more than 3.50, he allowed 50% more hits, and his walk and homeruns allowed totals almost tripled. If last season were an abberation, and statistically it would seem so, then Betancourt should be back among baseball's best relievers again. But if this a trend, then he could quite quickly be out of a job. Other key relievers this year should include former Japanese League star Masahide Kobayashi, and youngsters Jensen Lewis, Joe Smith, John Meloan, and fire-balling uber-prospect Adam Miller.
Chicago White Sox:
The White Sox had another successful season, winning the division in a one-game playoff versus the Twins giving GM Ken Williams his 3rd Central title in his 8 years at GM. While there was a lot to be praised about, the offseason hasn't been particularly promising and there seems to have been little in the way of improvement and there might even been some drop off this season. Still, with a very solid core, the team should at least hang around for a while.
Catcher AJ Pierzynski is a douchebag. Don't believe me? Ask, well, just about anybody. Pierzynski does have some good power for a catcher and is capable of hitting 15 homeruns with 25 or so doubles. But otherwise he doesn't bring much else to the table. His OBP is low and he doesn't play good defense. But he's a favorite of manager Ozzie Guillen because, like Guillen, he's a loud-mouthed asshole who "plays hard". The problem also is that the White Sox have absolutely no depth in the franchise at catcher. The only possibility seems to be big youngster Cole Armstrong, who does play very good defense but is a little bit of a liability with the stick. At third base, former-uber prospect Josh Fields finally gets a clean shot at starting. Fields, despite hitting 23 HRs as Joe Crede's injury replacement in 2007, was sent back down to the minors due to a near-impossible regression. Fields clearly has power but strikes out far too often (150 times in 125 career games at the big-league level) and his on-base totals are sub-par plus, unlike the very good Crede, he doesn't play good defense. Still, there was a reason he was a top prospect for so long and if he can get his act together he should be one of the better 3rd basemen in the AL. 1st baseman Paul Kornerko was abysmal for most of last season and only an incredibly strong August and September could save him from having arguably the worst season of any regular in baseball. While it's unlikely that he could have fallen off that much, Kornerko is clearly in decline as his homerun totals (historically his best asset) have dropped every year since 2004. For the sake of the White Sox, Kornerko needs to bounce back and play at least to his 1999-2002 days if the team is going to compete. Shortstop Alexei Ramirez was phenomenal last season. The 27-year old Cuban defector is a great athlete and provided in all 5 tool categories last season. If he's going to continue to develop into one of the better players in baseball, he will need to increase his OBP numbers, but even as is he is a solidly above average shortstop. His double play counterpart should be rookie Chris Getz. A disciplined slap-hitter, Getz should provide enough offense and some good defense in his first season. The outfield was a team strength and the core of the offense last year and that likely won't change. Left fielder Carlos Quentin was the steal of the offseason last year as he was acquired from the Diamondbacks for marginal prospect Chris Carter and turned into an MVP candidate before going down with a broken hand in early September. Quentin has great power (36 HRs, 26 doubles, .571 SLG in 2008) and a pretty good eye at the plate (66 walks vs. 80 strike outs and a .394 OBP in 2008). In addition, he is a plus left fielder who could be an average centerfielder if need be. Right fielder Jermaine Dye continues to be one of the quietest producers in baseball. Dye hit 34 HRs last season, the second highest total of his career and had a very impressive .541 SLG. Dye has always stuck out at high rates, but generally makes very strong contact thanks to his powerful lower body and very good bat speed. Center field is a little up in the air. As of now, Brian Anderson is the starter. Anderson is really suited better to be a 4th outfielder as he has some power and can field a little but doesn't get on base enough to warrant a full-time gig. His potential replacement is former super-prospect Jerry Owens, who can fly and has some power but, like Fields, has regressed mightily and can no longer be considered a prospect. If neither are the solution, look for defensive dynamo Jordan Danks to step in and be given a shot. At DH, Jim Thome plugs along as one of the finest power hitters of all time. The massive Thome is getting up there in years but can still mash, having only once hit fewer than 30 HRs in a season with more than 450 ABs (he hit 25 in 1995). Thome has always been extremely patient at the plate, but his OBP did dip a little last season and he doesn't hit breaking stuff like he once did. Still, you can expect another Jim Thome type season from him for at least a few more years. The bench has some solid players including Owens, Wilson Betemit, Jayson Nix, Brent Lillibridge, DeWayne Wise, and Ben Broussard.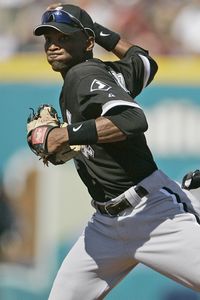 The rotation should be strong at the top and questionable at the bottom for the 2009 season. Ace Mark Buehrle has consistently been one of the better pitchers in baseball. An incredibly fast worker who doesn't throw or waste many pitches, Buehrle has thrown over 200 innings every year since 2001 and only once has his ERA risen above 4.15 (4.99 in the abberation year of 2006). Buehrle doesn't really have great stuff, though it certainly is good, and he doesn't really strike out a ton of hitters. However, this seems to actually aid Buehrle as it keeps his pitch counts low and forces a bunch of weak ground balls to the waiting infielders. The number two and three slots will be occupied by the emerging John Danks and Gavin Floyd. The 24 year old Danks showed great improvement in his second big league season. He kept his walks down (only 3 more than in 2007 while pitching 46 more innings) and actually reduced his homeruns allowed total by 13 (again, in 46 more innings). Danks has good stuff and uses his arm slots well in deceiving hitters. Floyd, a former Phillies prospect, finally managed to straighten out his mechanics and put together his immense talent. At 6'5", Floyd is an imposing power pitcher who is prone to the big inning and giving up the long ball (30 allowed in 206.1 innings in 2008). Still, it appears as though he has learned to pitch and to keep his motion repeatable and that should make him a solid to very good starter in the AL for a long time. Jose Contreras is scheduled to be the number 4. Few pitchers have been more up and down than Contreras has in his career since defecting from Cuba. In six seasons, Contreras has been very good in two (2003 and 2005), abysmal in two (2004 and 2007) and slightly above average and slightly below average in the two others (2006 and 2008, respectively). If he's healthy, and he did miss some time last season, he should be an above average innings eater who can go the distance on any given start. Or he could be a Cy Young candidate. Or he could be the worst pitcher in baseball. The number 5 slot is currently in an competition between former University of Michigan quarterback Clatyon Richard and former Cy Young winner Bartolo Colon. Richard, currently a Mormon, was unimpressive in his big league debut last season but is clearly a superior athlete and does have good stuff. His powerful 6'5" 240lbs frame generates good power and downward action on pitches but his mechanics could use some cleaning up. Colon, currently a fatty, actually pitched pretty well in 7 starts for the Red Sox last season. But he didn't have the same zip on his pitches as earlier in his career and gave up a lot of homeruns, always a weakness for him. Still, Colon averaged 16.875 wins and over 200 inngings pitched per season from 1998-2005 and if he can get to about 75% of that, he could be one of the year's surprises. The bullpen should be deep this year, led by closer Bobby Jenks. Jenks can light up the radar gun with his fastball but his strikeouts have plummetted the past two years (80 in 69.2 innings in 2006, 56 in 65 innings in 2007, 38 in 61.2 innings in 2008). This is a troubling trend for a 6'3", 275lbs, power pitcher like Jenks. Still, he has been effective his entire career and his WHIP last season was an impressive 1.10. Setting him up will be the tandem of Octavio Dotel and Scott Linebrink. Dotel is a former closer who has battle arm injuries in the past. He strikes out hitters like it was his job (which it is) including 92 in just 67 innings last season. Linebrink is a little more finessed than Dotel but still is very effective. Both can close if called upon but neither has a great track record as Dotel has only a 69.7% save rate and Linebrink has a terribly horrendous 14.7% save rate in their careers. In front of them should be an effective group including former closer Mike MacDougal, lefty Matt Thornton, journeyman DJ Carrasco, and the 6'7", 260lbs Franklyn German.