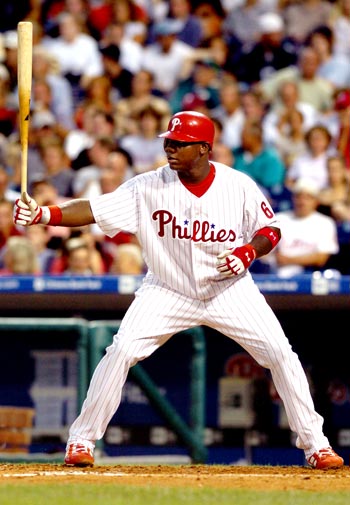 ...to Ryan Howard, who yesterday
became the fastest play to reach 200 career homeruns
in terms of games played, needing a mere 658, breaking the record of Hall of Famer Ralph Kiner.
This certainly an impressive achievement and I don't mean to detract from it (yes I do), but I am puzzled at how many are touting Howard as destined for all-time greatness. Now Howard is a good player. His power is impressive and he gets on base pretty well and his defense is improving. But Howard is already 29 years old. Will he end up being an all-time great? Time is not on his side. Players tend to hit their primes in the 27-33 year old range. That is not to say their primes are 6 years, but rather that their peak will be reached in that time period. In reality, most players generally only have about 3 years that could be called a prime. After that a decline is expect. Now obviously some players buck this trend, but unless we are to believe that Howard hasn't reached his prime, which is possible but unlikely, we can expect Howard not to continue this rate of production.
In contrast Ken Griffey, Jr. had 398 homers by the end of his last full season as a 29 year old. And Alex Rodriguez had a whopping 429 by his last full season as a 29 year old. In addition, those guys were superior defenders at much more demanding positions and provided good baserunner and better on-base numbers. Hell, Albert Pujols is 29 and he has 351 already. And you don't need me to tell you how much better at everything Pujols is than Howard.
So is Howard a very good player who could help almost any team he'd be on? Yes. Is it ridiculous to already start thinking of him in terms of the great and Hall-worthy players of All-Time? Absolutely.