I'm furious
.
2008 was unquestionably one of the finest years in filmmaking in my lifetime. Not only were the releases exquisitely framed, produced, edited, and presented, but for the first time in many years, the theme of 2008's films could best be described as "craftsmanship through entertainment."
In recent years, the darlings of the awards circuit have been dreary, laborious exercises in execution, favoring cinematic precision over the entertainment of its audience. Perhaps no film better embodied this trend than 2007's
Atonement
, a film that was universally lauded by critics yet reviled in equal consension by any average person who paid to see it. It was beautifully shot, yes. It was crisply acted, yes. But it was boring. Cripplingly, inescapably, mind-blowingly boring. And it was nominated for Best Picture.
Fortunately, it didn't win, and a good film did:
No Country for Old Men
. There was new hope for entertaining films to receive the adulation that the standard American filmgoer knew they deserved. (As an aside, I'd like to briefly offer the opinion that as great as
No Country
was and is, Paul Thomas Anderson's
There Will Be Blood
will ultimately be remembered as one of the greatest American films of the 21st century despite losing the Best Picture to the Coen Brothers.)
Fast forward to 2008. January has us off to an
undeniably awful start
, with releases like
One Missed Call
, Uwe Boll's
In the Name of the King
,
27 Dresses
, and
Meet the Spartans
. But the first four months of the year are always marked by trash; studios know that Academy voters have short memories. But, bit by bit, the good stuff begins to show itself. At the end of January,
4 Months, 3 Weeks, 2 Days
. February,
In Bruges
. And May 2nd brings
Iron Man
.
I enjoyed
Iron Man
. I don't think it deserves any Oscar consideration for its acting or directing, but it was a nice surprise to see a film that was both highly enjoyable on a most aesthetic level and well-crafted at the same time. This sentiment would return a few months later, albeit to a violently higher degree.
I am, of course, talking about
The Dark Knight
. Directed by 37-year-old badass
Christopher Nolan
, who first Rocked Your World at age 29 with
Memento
,
The Dark Knight
is arguably one of the finest examples in the history of the medium of a masterful balance between art and entertainment.
I blanched briefly in August when IMDB's reliable voters had sent
The Dark Knight
shooting up to a 9.4, good for first place all-time, otherwise known as Best Film Ever. It currently sits at no. 5, which is still rather high for my tastes; however, it is one spot below
The Good, the Bad, and the Ugly
, which is all that really matters to me. After all, Sergio Leone's masterpiece is the original
Dark Knight
, an impossible combination of craftsmanship and entertainment. A number of active directors have called
The Good, the Bad, and the Ugly
the "best-directed film" ever made, and it's hard to argue. If you thought
The Dark Knight
was better than
Pulp Fiction
, I'll buy that. If you thought it was better than
Star Wars
, I won't bat an eye (not everyone likes
Star Wars
...). Hell, if you told me that you thought
The Dark Knight
was a better film than
Casablanca
, I won't even try to argue with you. Because they're all different films with different intentions and different methods of execution. The audience isn't meant to feel the same emotions and sensibilities during
Schindler's List
that they do during
The Empire Strikes Back
. But one would be hard-pressed to compare
The Dark Knight
and
The Good, the Bad, and the Ugly
and objectively declare Nolan's work of art to be superior.

It was with utter repulsion, then, that I read the list of nominations for the upcoming 81st Academy Awards--the pinnacle of recognition in filmmaking. This is no SAG or DGA or WGA Award; this is the Oscar. Films that are nominated for Academy Awards are held to impeccably high standards--and so should the governing body that nominates them.

Like I said, 2008 was one of the finest years in filmmaking in my entire life. But you would never know it if you watch this year's Oscars.



The Curious Case of Benjamin Button

is by all accounts (and I do mean virtually all accounts) a pedestrian and forgettable yarn that is almost shot-for-shot the same film as

Forrest Gump

(one review site even went so far as to call it "

Forrest Gump

with no AIDS"). This same jalopy of a movie is nominated for 13 Academy Awards, including Best Picture, Best Director, Best Actor, Best Supporting Actress, and Best Adapted Screenplay. It is presently rocking a 72% on Rotten Tomatoes, 24 points lower than

WALL
·
E

, 22 points lower than

The Dark Knight

, and 26(!) points lower than

The Wrestler

, all of which were snubbed for a Best Picture nomination. What the French, toast?



While we're mentioning Best Picture and Best Director, why don't we take a look at the nominees.



Best Picture





The Curious Case of Benjamin Button




The Reader




Slumdog Millionaire




Frost/Nixon




Milk



Best Director (same order, same films)

David Fincher
Stephen Daldry
Danny Boyle
Ron Howard
Gus Van Sant

OK. Let's start with the two with which I have no problem whatsoever. Danny Boyle, director of

Slumdog Millionaire

, is also responsible for the most underrated film of the 21st century,

28 Days Later

. Taking his previous body of work into account, and more importantly, the fact that he made a reputable film starring nothing but unknown 20-year-old Bollywood extras, is a testament to his directorial talent. Ron Howard, likewise, has proven himself to be a professional filmmaker. Frost/Nixon was written and originally performed as a stage production. Translating such dialogue and spacing to a screen is an immense challenge, and Howard was clearly up for it. Again, no beef. I'd like to say Gus Van Sant is totally undeserving, but I know nothing about

Milk

other than that it was highly acclaimed. So he stays just on principle. But David Fincher, as wonderful as he is as a director, should not be on this list.

Benjamin

Button

is a stale, boring hike through hock scenes and bad Louisiana accents and Blanchetting all over the place. Objectively: this movie is not very good. That should have freed up one spot for two very deserving men: Darren Aronofsky, who directed

The Wrestler

, and Christopher Nolan, who directed

The Dark Knight

. While much deserved credit for

The Wrestler

's quality is given to Mickey Rourke, it's obvious that

The Wrestler

would not have been the same under the direction of Paul Verhoeven or Michael Bay or Whoever Keeps Directing Ice Cube Movies. One of those two men, if not both, deserved a nod.

As for Best Picture, the same quarrels apply.

Slumdog Millionaire

is, by all accounts, a spectacular film with authenticity and panache. Enjoying it requires the viewer to accept some mega-implausibilities, but on the other hand, the impossibly good fortune of the protagonist is sort of the point of the film. Peter Bradshaw of

The Guardian

wrote:
"Despite the extravagant drama and some demonstrations of the savagery meted out to India's street children, this is a cheerfully undemanding and unreflective film with a vision of India that, if not touristy exactly, is certainly an outsider's view; it depends for its full enjoyment on not being taken too seriously." That's not a bad thing...for
WALL-E
. But is such schmaltz the sign of a Best Picture contender? Didn't
Crash
and
No Country
teach us to know better? Why is the Academy changing its mind now? And the inclusion of
Benjamin Button
is a contemptuous slap in the face. Finally, not to be snide, but did anyone actually see
The Reader
? What is it doing there? It wasn't released--limited, wide, or otherwise--until January 9th of this year. Why is it allowed to count towards the year in film for 2008? More importantly, how is this film--presently possessing a
near-rotten 60%
on Rotten Tomatoes--voted one of the five best films of the year? This is a film that critics have called "an emotionally distant, Oscar-baiting historical drama," "a thumb sucker," "An airless vacuum labeled Serious Film," and "naive and glib and meretricious" that "left no emotional impression. It happened and I left." WHO VOTED FOR THIS MOVIE?!?!
There are two obvious omissions here. First is
The Wrestler
. Somehow the Academy saw fit to nominate Mickey Rourke for Best Actor and Marisa Tomei for Best Supporting Actress--two staple roles of a critical hit--yet the film in which these two nominated performances appear doesn't warrant a Best Picture nomination? Is everyone else in the film that bad? There can't be more than ten speaking roles in the entire movie.
The absence of
The Dark Knight
, is, of course, the even more atrocious oversight. The Academy Award for Best Picture, though the most prestigious of all the Oscars, is arguably the simplest to define: the winner is the best film of the year. How, then, does the second highest-grossing film in the history of the world not qualify? What does the Academy know that $1 billion worth of filmgoers don't?
The final snub is more heartbreaking than infuriating. Clint Eastwood has been delivering iconic performances in front of and behind the camera for over 40 years. Our generation thinks of Clint Eastwood as the ultimate asskicker. Our parents' generation thought of Clint Eastwood as the ultimate asskicker. Death, taxes, and Clint Eastwood annihilating fools.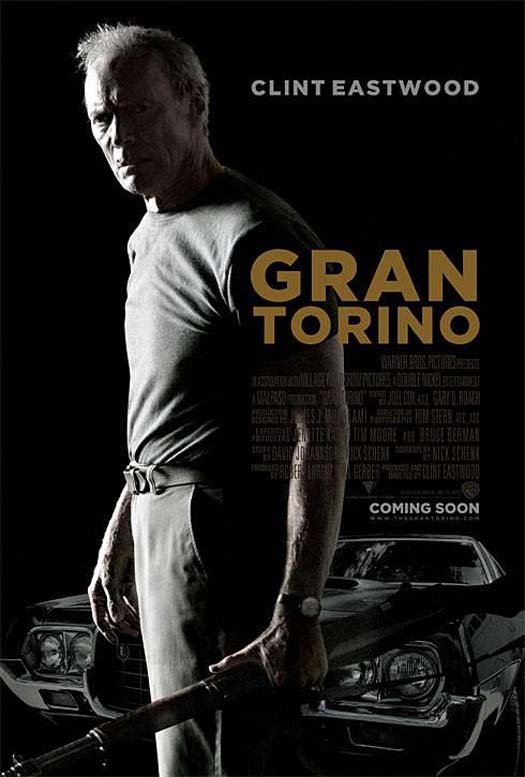 So when I left the theater having just seen Eastwood's
Gran Torino
, I knew I had just seen another chapter in his legacy of unsurpassed filmmaking. At age 78, Clint Eastwood is still one of the finest tacticians of the silver screen that we will ever see. His performance was magnificent. His directing was flawless. There's a good chance we will never see him act again. And not only was he not rewarded for his execution, he wasn't even considered for the reward. The voters watched his modern American masterpiece and said, "I'd rather vote for Brad Pitt." I hope when (or maybe I should say
if
) Clint Eastwood dies and we're treated to a retrospective of his career, they know what they took from him.
Take it away, Sergio.
Performance by an actor in a leading role
Richard Jenkins in "The Visitor" (Overture Films)
Frank Langella in "Frost/Nixon" (Universal)
Sean Penn in "Milk" (Focus Features)
Brad Pitt in "The Curious Case of Benjamin Button" (Paramount and Warner Bros.)
Mickey Rourke in "The Wrestler" (Fox Searchlight)
Performance by an actor in a supporting role
Josh Brolin in "Milk" (Focus Features)
Robert Downey Jr. in "Tropic Thunder" (DreamWorks, Distributed by DreamWorks/Paramount)
Philip Seymour Hoffman in "Doubt" (Miramax)
Heath Ledger in "The Dark Knight" (Warner Bros.)
Michael Shannon in "Revolutionary Road" (DreamWorks, Distributed by Paramount Vantage)
Performance by an actress in a leading role
Anne Hathaway in "Rachel Getting Married" (Sony Pictures Classics)
Angelina Jolie in "Changeling" (Universal)
Melissa Leo in "Frozen River" (Sony Pictures Classics)
Meryl Streep in "Doubt" (Miramax)
Kate Winslet in "The Reader" (The Weinstein Company)
Performance by an actress in a supporting role
Amy Adams in "Doubt" (Miramax)
Penélope Cruz in "Vicky Cristina Barcelona" (The Weinstein Company)
Viola Davis in "Doubt" (Miramax)
Taraji P. Henson in "The Curious Case of Benjamin Button" (Paramount and Warner Bros.)
Marisa Tomei in "The Wrestler" (Fox Searchlight)
Best animated feature film of the year
"Bolt" (Walt Disney), Chris Williams and Byron Howard
"Kung Fu Panda" (DreamWorks Animation, Distributed by Paramount), John Stevenson and Mark Osborne
"WALL-E" (Walt Disney), Andrew Stanton
Achievement in art direction
"Changeling" (Universal), Art Direction: James J. Murakami, Set Decoration: Gary Fettis
"The Curious Case of Benjamin Button" (Paramount and Warner Bros.), Art Direction: Donald Graham Burt, Set Decoration: Victor J. Zolfo
"The Dark Knight" (Warner Bros.), Art Direction: Nathan Crowley, Set Decoration: Peter Lando
"The Duchess" (Paramount Vantage, Pathé and BBC Films), Art Direction: Michael Carlin, Set Decoration: Rebecca Alleway
"Revolutionary Road" (DreamWorks, Distributed by Paramount Vantage), Art Direction: Kristi Zea, Set Decoration: Debra Schutt
Achievement in cinematography
"Changeling" (Universal), Tom Stern
"The Curious Case of Benjamin Button" (Paramount and Warner Bros.), Claudio Miranda
"The Dark Knight" (Warner Bros.), Wally Pfister
"The Reader" (The Weinstein Company), Chris Menges and Roger Deakins
"Slumdog Millionaire" (Fox Searchlight), Anthony Dod Mantle
Achievement in costume design
"Australia" (20th Century Fox), Catherine Martin
"The Curious Case of Benjamin Button" (Paramount and Warner Bros.), Jacqueline West
"The Duchess" (Paramount Vantage, Pathé and BBC Films), Michael O'Connor
"Milk" (Focus Features), Danny Glicker
"Revolutionary Road" (DreamWorks, Distributed by Paramount Vantage), Albert Wolsky
Achievement in directing
"The Curious Case of Benjamin Button" (Paramount and Warner Bros.), David Fincher
"Frost/Nixon" (Universal), Ron Howard
"Milk" (Focus Features), Gus Van Sant
"The Reader" (The Weinstein Company), Stephen Daldry
"Slumdog Millionaire" (Fox Searchlight), Danny Boyle
Best documentary feature
"The Betrayal (Nerakhoon)" (Cinema Guild), A Pandinlao Films Production, Ellen Kuras and Thavisouk Phrasavath
"Encounters at the End of the World" (THINKFilm and Image Entertainment), A Creative Differences Production, Werner Herzog and Henry Kaiser
"The Garden" A Black Valley Films Production, Scott Hamilton Kennedy
"Man on Wire" (Magnolia Pictures), A Wall to Wall Production, James Marsh and Simon Chinn
"Trouble the Water" (Zeitgeist Films), An Elsewhere Films Production, Tia Lessin and Carl Deal
Best documentary short subject
"The Conscience of Nhem En" A Farallon Films Production, Steven Okazaki
"The Final Inch" A Vermilion Films Production, Irene Taylor Brodsky and Tom Grant
"Smile Pinki" A Principe Production, Megan Mylan
"The Witness - From the Balcony of Room 306" A Rock Paper Scissors Production, Adam Pertofsky and Margaret Hyde
Achievement in film editing
"The Curious Case of Benjamin Button" (Paramount and Warner Bros.), Kirk Baxter and Angus Wall
"The Dark Knight" (Warner Bros.), Lee Smith
"Frost/Nixon" (Universal), Mike Hill and Dan Hanley
"Milk" (Focus Features), Elliot Graham
"Slumdog Millionaire" (Fox Searchlight), Chris Dickens
Best foreign language film of the year
"The Baader Meinhof Complex" A Constantin Film Production, Germany
"The Class" (Sony Pictures Classics), A Haut et Court Production, France
"Departures" (Regent Releasing), A Departures Film Partners Production, Japan
"Revanche" (Janus Films), A Prisma Film/Fernseh Production, Austria
"Waltz with Bashir" (Sony Pictures Classics), A Bridgit Folman Film Gang Production, Israel
Achievement in makeup
"The Curious Case of Benjamin Button" (Paramount and Warner Bros.), Greg Cannom
"The Dark Knight" (Warner Bros.), John Caglione, Jr. and Conor O'Sullivan
"Hellboy II: The Golden Army" (Universal), Mike Elizalde and Thom Floutz
Achievement in music written for motion pictures (Original score)
"The Curious Case of Benjamin Button" (Paramount and Warner Bros.), Alexandre Desplat
"Defiance" (Paramount Vantage), James Newton Howard
"Milk" (Focus Features), Danny Elfman
"Slumdog Millionaire" (Fox Searchlight), A.R. Rahman
"WALL-E" (Walt Disney), Thomas Newman
Achievement in music written for motion pictures (Original song)
"Down to Earth" from "WALL-E" (Walt Disney), Music by Peter Gabriel and Thomas Newman, Lyric by Peter Gabriel
"Jai Ho" from "Slumdog Millionaire" (Fox Searchlight), Music by A.R. Rahman, Lyric by Gulzar
"O Saya" from "Slumdog Millionaire" (Fox Searchlight), Music and Lyric by A.R. Rahman and Maya Arulpragasam

Best motion picture of the year
"The Curious Case of Benjamin Button" (Paramount and Warner Bros.), A Kennedy/Marshall Production, Kathleen Kennedy, Frank Marshall and Ceán Chaffin, Producers
"Frost/Nixon" (Universal), A Universal Pictures, Imagine Entertainment and Working Title Production, Brian Grazer, Ron Howard and Eric Fellner, Producers
"Milk" (Focus Features), A Groundswell and Jinks/Cohen Company Production, Dan Jinks and Bruce Cohen, Producers
"The Reader" (The Weinstein Company), A Mirage Enterprises and Neunte Babelsberg Film GmbH Production, Nominees to be determined
"Slumdog Millionaire" (Fox Searchlight), A Celador Films Production, Christian Colson, Producer
Best animated short film
"La Maison en Petits Cubes" A Robot Communications Production, Kunio Kato
"Lavatory - Lovestory" A Melnitsa Animation Studio and CTB Film Company Production, Konstantin Bronzit
"Oktapodi" (Talantis Films), A Gobelins, L'école de l'image Production, Emud Mokhberi and Thierry Marchand
"Presto" (Walt Disney), A Pixar Animation Studios Production, Doug Sweetland
"This Way Up" A Nexus Production, Alan Smith and Adam Foulkes
Best live action short film
"Auf der Strecke (On the Line)" (Hamburg Shortfilmagency), An Academy of Media Arts Cologne Production, Reto Caffi
"Manon on the Asphalt" (La Luna Productions), A La Luna Production, Elizabeth Marre and Olivier Pont
"New Boy" (Network Ireland Television), A Zanzibar Films Production, Steph Green and Tamara Anghie
"The Pig" An M & M Production, Tivi Magnusson and Dorte Høgh
"Spielzeugland (Toyland)" A Mephisto Film Production, Jochen Alexander Freydank
Achievement in sound editing
"The Dark Knight" (Warner Bros.), Richard King
"Iron Man" (Paramount and Marvel Entertainment), Frank Eulner and Christopher Boyes
"Slumdog Millionaire" (Fox Searchlight), Tom Sayers
"WALL-E" (Walt Disney), Ben Burtt and Matthew Wood
"Wanted" (Universal), Wylie Stateman
Achievement in sound mixing
"The Curious Case of Benjamin Button" (Paramount and Warner Bros.), David Parker, Michael Semanick, Ren Klyce and Mark Weingarten
"The Dark Knight" (Warner Bros.), Lora Hirschberg, Gary Rizzo and Ed Novick
"Slumdog Millionaire" (Fox Searchlight), Ian Tapp, Richard Pryke and Resul Pookutty
"WALL-E" (Walt Disney), Tom Myers, Michael Semanick and Ben Burtt
"Wanted" (Universal), Chris Jenkins, Frank A. Montaño and Petr Forejt
Achievement in visual effects
"The Curious Case of Benjamin Button" (Paramount and Warner Bros.), Eric Barba, Steve Preeg, Burt Dalton and Craig Barron
"The Dark Knight" (Warner Bros.), Nick Davis, Chris Corbould, Tim Webber and Paul Franklin
"Iron Man" (Paramount and Marvel Entertainment), John Nelson, Ben Snow, Dan Sudick and Shane Mahan
Adapted screenplay
"The Curious Case of Benjamin Button" (Paramount and Warner Bros.), Screenplay by Eric Roth, Screen story by Eric Roth and Robin Swicord
"Doubt" (Miramax), Written by John Patrick Shanley
"Frost/Nixon" (Universal), Screenplay by Peter Morgan
"The Reader" (The Weinstein Company), Screenplay by David Hare
"Slumdog Millionaire" (Fox Searchlight), Screenplay by Simon Beaufoy
Original screenplay
"Frozen River" (Sony Pictures Classics), Written by Courtney Hunt
"Happy-Go-Lucky" (Miramax), Written by Mike Leigh
"In Bruges" (Focus Features), Written by Martin McDonagh
"Milk" (Focus Features), Written by Dustin Lance Black
"WALL-E" (Walt Disney), Screenplay by Andrew Stanton, Jim Reardon, Original story by Andrew Stanton, Pete Docter