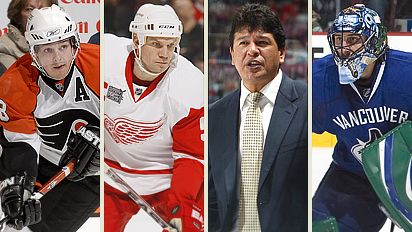 We've reached the midpoint of the NHL season and ESPN's Scott Burnside
has presented his first-half awards
. Some are obvious, like Red Wings for Best Team and Martin Brodeur/Roberto Luongo for the Vezina.
But, being the biased turd that I am, I must take umbrage with some of Scott's other selections.
Hart Trophy (MVP)
Scott's Pick:
Ilya Kovalchuk
, Atlanta
My Pick:
Alexander Ovechkin
, Washington
Homer Pick #1. I'd like to pick
Nicklas Lidstrom
, but since he's going to win the Norris anyway, I'm sure he won't mind sharing some of the hardware.
Scott's selection of Kovalchuk as first-half MVP puzzles me. Ilya has had a fine first half, no doubt--but Ovechkin has more goals, more points, a higher +/-, and more minutes on a better
team in the same division. Kovalchuk wouldn't even win MVP of the Southeast in my opinion, so why should he get the Hart? Ovechkin has taken his Bad News Bears from a top-5 lotto team to playoff contenders. The nucleus of Ovechkin, Mike Green, Nicklas Backstrom, Tom Poti, and Chris Clark has been one of the most solid lines in the NHL and, quite frankly, you should never, ever, bet against a team with
Donald Brashear
on the roster. It won't end well for you or your pancreas.
So, despite my obvious ulterior motives, I don't think you can go wrong awarding Ovechkin the MVP.
Calder Trophy (ROY)
Scott's Pick:
Patrick Kane
, Chicago
My Pick:
Nicklas Backstrom
, Washington
This one might be a little more difficult for me to legitimize. At 19 and
looking closer to 12
, Kane leads the Blackhawks in points, assists, and shots on goal. Backstrom, however, is just four points behind him and has a considerably higher +/- and shot percentage. Let's not forget that the Blackhawks are .500 in a season where they were supposed to be okay and the Caps are one game over .500 in a season where they were supposed to be terrible. Kane might mean more individually to his team, but Backstrom is a better player on a better team.
Most Disappointing Team
Scott's Pick:
The San Jose Sharks
My Pick:
The Toronto Maple Leafs
I know the Leafs are getting old, but did anybody really think they would get this elderly this fast? Last year Toronto was nine games over .500 and missed the playoffs by one point. This year they just suck balls.
And as for San Jose, who the fuck continues to rate them so highly so that they can "let us down" when the season actually starts? For five straight seasons, the Sharks have been the "experts' pick" to win the Stanley Cup only to choke on a giant penis in the playoffs. When will the journalists learn their lesson and stop picking the Sharks? Nabokov and Thornton can't do everything, homeslice! Doesn't it bother you that Jonathan Cheechoo is still the "hot young commodity to watch" for the Sharks--and he was drafted ten years ago?

Jack Adams Award (Coach)

Scott's Pick:
Ted Nolan, Islanders

My Pick:
John Stevens, Flyers
It's true, Nolan has done some special things with his ragtag Islanders squad. But at least he has had studly netminder Rick DiPietro all season to keep things properly anchored. The Flyers, meanwhile, have put Simon Gagne on the ice for only 18 games this season, and unfortunately, everyone else on the team sucks. Martin Biron and Antero Niittymaki in goal don't exactly strike fear into opposing wingers, either. And yet the Flyers are tied for first in the Atlantic.
Finally, Scott wraps things up with a forlorn shake of his head at the pitiful attendance figures for the Nashville Predators and Florida Panthers. He attributes it to their mean-spirited owners and poor performance on the ice. I think it has a little something to do with the fact that these are professional ice hockey organizations located in the states of Tennessee and Florida. That plays an ever-so-small role, in my opinion.
In other shitty hockey news, the NHLPA contends that the league
somehow forgot
to tell them that the regular season would begin in Europe as it did this year. I swear you could replace Gary Bettman with a pile of dog shit and the NHL would run just as smoothly as it does now.