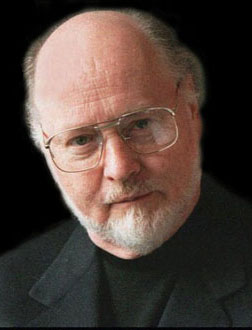 If God is a lighthearted deity, someone who loves and appreciates the more overlooked wonders of life, and I sincerely believe that He is, then God most likely exists on Earth in the form of John Williams.
You've heard John Williams' music. I don't need to ask. He's only the most recognizable, most talented, and most unfairly awesome musician in human history. He is so dominant in his field that there is no field. John Williams doesn't write "classical" music or "movie" music. John Williams Music simply...
is
.
Name a film with a familiar tune and it's likely that Williams wrote it. For over forty years, Williams has been the premier--perhaps the
only
--name in film score composition. He won his first Oscar way back in 1971 for
Fiddler on the Roof
.
But the big moment for Williams came in 1974 when scruffy young filmmaker Steven Spielberg asked Williams to score his directorial debut,
The Sugarland Express
. That collaboration led to the most dominant director-musician tag team ever. Perhaps the most dominant duo in any medium ever. No, seriously.
One year after
Sugarland
, Williams delivered the first of his quite-literally-unforgettable scores when he wrote the music to Spielberg's thriller
Jaws.
Spielberg then recommended Williams to his directorial homeslice, George TurkeyNeck Lucas, to score Lucas' upcoming space opera
Star Wars
. It was with the
Star Wars
series that Williams first established his inhuman ability to elicit emotion through his leitmotifs. I guarantee you that any other composer in Hollywood would give his left arm just for one of Williams' leitmotifs. That's how good he is. There are forty-four--
forty-four!
--leitmotifs in all six
Star Wars
films.
Williams took a break from his Spielberg/Lucas connection to score
Superman
for director Richard Donner. Donner didn't really do anything; it was just Christopher Reeve and John Williams being awesome.
In 1981, Williams scored the first of an eventual four films in the
Indiana Jones
series with
Raiders of the Lost Ark
, an effort which I hold dearest out of all of Williams' endeavors. The first film's principle leitmotif, "The Raiders March," has become one of the most famous pieces of music in history.
It's actually very easy to identify Williams' talent. Simply separate a scene scored by Williams and the track that accompanies it. Watching the clip without sound is unremarkable, perhaps even boring. But listening to a John Williams track, regardless of the accompanying image, is breathtaking. That is the talent of John Williams: the ability to thrill you without images.
Here I shall provide his most famous themes. But first! His most underrated:
(Best part starts around 4:50)
And now for the classics:
He wrote
ALL OF THOSE.