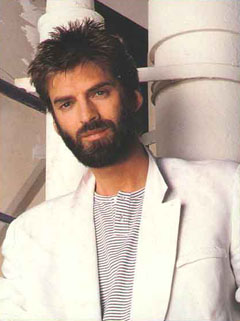 Kenny Loggins sucks at life. Except for this one time when he didn't.
Loggins' career is truly bizarre. Nobody has ever bought any of his albums or heard any of his singles and yet we've all heard of him and his eighth-grade haircut. What's his secret? Simple and devious:
8

0

'

s

M

O

V

I

E

S

!
Whenever you watch
Top Gun, Caddyshack
, or
Footloose
, you're going to hear Kenny Loggins. A quick glance at his singles history shows that "Danger Zone," "Footloose," and "I'm Alright" all charted in the top seven of the US Top 100, with "Footloose" and "Danger Zone" reaching #1 and #2, respectively. But outside of these soundtrack hits, poor Kenny couldn't even crack #22 without some help from Michael McDonald. Here, in descending order, are his highest-charting singles.
Stank.